Fierce Female Interview No. 2: Sophie Hellyer — The Surfeminist Rising Fierce
• • • Who has one job these days when you can have as many as you like?! With a chat over a cuppa in London, featuring lots of laughs, Sophie Hellyer, an energetic environmentalist, feminist, surfer, cold water swimmer, writer, TEDx Speaker and newly qualified yoga teacher (inhale/exhale!) shares with us, her passion-led life of adventure and activism.
Let's start with what you do. So you surf, you go cold water swimming, you teach yoga…
Yes! I just became a qualified yoga teacher!
Awesome. Congratulations!  Tell me more.  It's always a hard question when people would say, 'what do you do?' — I don't just do one thing. So, I surf and cold water swim and now I teach yoga too. I run my own retreats — women's cold water swimming and yoga retreats. I write, which is not a massive earner, but I really enjoy writing about the things I'm passionate about. I normally use women's sports, like surfing, to write about wider environmental or societal issues. I also do a bit of photo-shoot production. Lastly, I guess I'm a very reluctant influencer, I think. I do a few partnerships on Instagram with brands that I support. I'm very reluctant to use the term influencer.
I can understand that. How have you found Instagram and how it has changed the 'social' 
climate over the years?  I've had Instagram for 8 years, so it's been a long time. It's not like I ever intended to go out there and 'be an influencer'. I've just had Instagram for a very long time and I've gained a hundred followers a week, every week, for years on end. So it's been very slowly increasing … and then I guess, all of a sudden, out of nowhere, it seemed like, 'influencing' became a thing and marketing companies start gifting products and paying people to say stuff about their products — and I really resisted it for a long time. Firstly, I have a degree in marketing, so I think it's a bit of a lazy way of marketing, like… just giving people stuff and paying them to say 'it's good' in a one-off post, it's just a lazy strategy!"; And secondly, I don't think you can really trust someone's recommendation or opinion of something if they are being paid to say it. So, it's 'murky waters' to step into. But I just trust my integrity and stick with what I believe in. I only work with companies that I genuinely use and support. I've turned down quite a lot of opportunities for partnerships, which I am not really in the financial position to turn down, but yeah… I just did one partnership with a hair company called Evo… As part of the part of the agreement, they agreed that I was allowed to write my 'overly honest' product reviews. So, I did a paid promotion on my Instagram channel for them, 
but I also did a completely honest review of the product where I could say whatever I wanted to. It's kind of was nice to have that weaved into the partnership. To keep my voice.
What are your thoughts on plastic pollution and on the things that we can do to drive change? 
I think plastic pollution is a huge issue. I see it every single time I go to the coast. It's unavoidable. There are also obviously way bigger problems in the world than plastics but I think it's a really good 'gateway' into environmentalism. So people become aware of plastic pollution — it's so obvious and tangible to see it on the beach — and from there, it leads them into other avenues like your carbon footprint, and organic food.
Personally, I think that we all have the power to create change with plastic. That's why it's kind of an awesome one to begin with. Everyone has the power to make small changes in their daily life. We have the power to change simple things like to stop using plastic water bottles, stop using plastic straws, maybe buy your veg in the veg shop so that it's not wrapped in plastic… Maybe stop using sanitary pads and tampons and switch to menstrual cups. There are so many little things we could do in our own lives that can drastically reduce the amount of plastic we are using. It's quite an empowering issue to tackle.
And it's so rewarding when you start making those changes, isn't it. When you remember your reusable cup for your journey!
I know, it's really rewarding… I always feel good when I remember my reusables. I always want to take pictures of my wash bag when I'm traveling. I have my natural deodorant in a tiny little glass jar and my nice little face oil, and I've got my bamboo toothbrush … Yeah, it's very rewarding.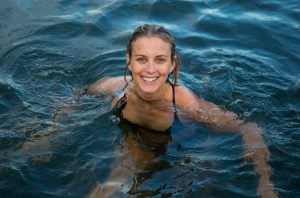 I think consumers have more power than ever. We all can really drive the market as consumers. If we are all going out there buying bamboo toothbrushes, the shops are going to stock bamboo toothbrushes. That is what will drive the change. Some of the big corporations are jumping on the environmental bandwagon (which I have two opinions about). Environmental considerations are one of the fastest-growing trends. 
People are looking for alternative methods of surfboard production and wetsuits as well.
Can you share with me your ideal fashion world? What does fashion mean to you from a consumerism point of view? I'm really passionate about Slow Fashion, on every level of production, so it's not just about sustainable fabrics — we have Yulex or Econyl, and other recycled plastic fabrics – but it's not just about the fabrics that you use, it's also about making sure the people who are making it get fair pay and have good working conditions. The packaging, how was it delivered? Looking at every stage of production, not just the finished product.
The other thing is a lot of sustainable fashion does come with a much higher price tag. Not everyone can afford it. Sometimes I buy a pair of socks at Topshop because I can't afford to buy a £20 pair of organic socks. Second-hand is also a really good option and repairing, I have a sewing machine so I love repairing bits and bobs here and there. Or, find companies that repair their items for you like Finisterre, Patagonia, and Huit Denim. This way you can expand the life of the products instead of just throwing them away.
Being an influential figure online, can you share some thoughts about how social media has
become a great platform for your environmental activism?  I think social media can be a really great tool for organising and promoting environmental activism. For instance, if you look at the #2minutesbeachclean it just started by a guy in South West of England. This one guy going out and doing a lot of beach-cleans, and hashtagging "2-minute beach clean", and it has become like a huge global movement. It's now got over a million posts on Instagram. So if it's used correctly, social media can really motivate and promote people doing great things and inspire more actions in communities, also creating communities. I also have my hashtag #RiseFierce, I started it with a few friends who go cold water swimming with me, and now we have a global community. I moved to London and posted out "anyone in London wants to do Rise Fierce?"… It connects people around the place.
I know that there's a lot of toxic stuff on social media and there's a lot of people who can take a lot of negativity from it. But I think you have to be very aware that you are in control of your own channel — you curate your own little TV channels as such. You choose who to follow, and if you use it wisely, maybe really great things can come along. 
I think consumers have more power than ever. We all can really drive the market by consuming differently. We can all go out there and buy things like bamboo toothbrushes. We can drive the change.
I just do me…
Tell me a bit more about yoga I've been practising yoga for years now. I have to say, when I first did yoga, I hated it. I was like, "what is this boring… stretching — why would I want to stretch, my hamstrings were so tight it was painful. Absolutely hated it. And I am not a naturally flexible person. People are always like "I can't do yoga as I cannot touch my toes". , Well hey, I can't touch my toes and I am a yoga teacher now, haha. You don't need to be flexible to do yoga. It does improve your flexibility, but it's about so much more than that. Definitely, for me, yoga isn't so much about the physical practice, it's the same with cold water swimming, so much deeper, and there are much bigger benefits to it, of a sense of calm, and a great community as well.
So yeah, I hosted my first retreat in October, which I think it was probably a long time coming. I was expecting it to be about eight people and we had 21. Two of my best friends were teaching yoga and I was leading the cold swimming and surfing. All organic, vegetarian food… We were out there learning to grow food on the veggie plot. Just really wholesome outdoors, beautiful living, connecting with nature. In the beginning, many women on the retreat were
scared of going into the water. They'd never been surfing, they've never been cold water swimming, and by the end of the five days, they were all jumping off the pier into the sea, in October, in Ireland. Since my first retreat, I've now finished my yoga teaching qualification and I'll be teaching some of the yoga on my retreats now. Hopefully, I'll still have Michelle and Dearbhla there doing the yoga, because they're both really amazing, experienced teachers. And I'm hoping to do kind of do a few smaller women gatherings, like weekends getaways, little city breaks. Go do some cold water swimming and yoga and tree planting, and just get out of the city for a weekend, and I'm looking for nice venues.
Portugal? Or somewhere cold?  Well, my friends have been asking me, "why don't we go somewhere like Senegal or Morocco", but my vibe is more like, I'm doing a retreat in Ireland at the end of the year. So I am going to keep it UK and Ireland based for now and then maybe go to Iceland and take it colder, not warmer! haha..
Sounds amazing, but I shiver at the thought! Of course, I was always a cold person and always
felt cold easily everywhere I went, but the more I do cold swimming, the more I'm like, "I'm a hot person now!". It totally changed my capability of dealing with the cold and with my mental attitude around it. I was so cold all the time and when I'd go to bed at night, with an electric blanket, hot water bottle, and everything, Now I'm like sweating at bedtime, so warm all the time.
We've touched on the yoga stuff, tell me more about other upcoming projects. So at the moment, as I said, I'll do a couple of women gatherings and retreats. One planned to be in Ireland for October, and I'm hoping to do possibly a UK-based one in September, and maybe somewhere further afield in places like Iceland in November.
I have a couple of film projects. We're in the phase where we are looking for funding. One is a film series about female surfers and resilience. So looking at female surfers in places like Gaza, Senegal, Sierra Leone, India… Looking into places where it's really challenging to be a woman, and a female surfer. So we have our pitch together, and we're approaching to companies, looking for funding so that we can continue that. So hopefully, we'll have a couple of films by the end of the year.
I would really like to (and am trying to) have a part in helping to drive the change in the visual narrative of surfing in the UK.
The Rise of the Female Movement
How have you seen women's surfing changed? I started surfing when I was 13 or 14, and now I'm 31. So I've seen a whole lot of change. From the film 'Blue Crush' coming out and women's surfing was kinda going mainstream (I love that film by the way! Although, it's probably not a very feminist film, but I love it). I saw surfing going very mainstream. I was sponsored by Roxy for ten years so was kind of at the forefront of Roxy's image. And I kind of… always complied and went along with things, even when I didn't necessarily feel comfortable. 
When you're young, I felt like, you should be grateful to be there, and you also have this imposter syndrome, where you're like "why am I here, I am not as good at surfing as them and not as pretty as them?". Of course, you're going to smile and pose in the way whoever is asking you to, because you're trying to get along with it. But I guess when I got older, I started to see some of the issues of the way women's surfing is marketed and how that makes it quite exclusive. Like, you don't see any women who are bigger than a size 8. You don't see many women of colour. You don't see any women with disabilities. There's like whole communities of female surfers that are excluded — and there are even whole communities of female surfers that barely exist because they have not had the role models in place for them to feel that they can access to this sport. So, when I moved out to Ireland, about five years ago, that was kind of my first conscious step away from the industry for a long time. I said to all my sponsors, "right, I'm only going to be photographed surfing in a wetsuit from now on, so I won't do the bikini photoshoots,
I'll just do the wetsuits". I thought, why am I ever posing in a bikini, on a beach in the UK? We don't surf in bikinis, we surf in wetsuits. That should never be part of being a surfer in Europe. I just really started to become really aware of how rarely you'd even see a wo
man in a wetsuit in a surf magazine. It's starting to change now, and I'd say like the last year, things have started to change. I was at the Irish Surf Film Festival, maybe two or three years ago, and there was not a single film made by a woman, starring a woman (this is in the short films), and there was only one wave ridden by a woman in all of the shorts. Fast forward to this year, there are two and three films entered by women. There is a much higher female representation. So it's great, and there is change and it is being driven. But that change is still very white, fairly middle-class, able-bodied…
Also at the London Surf Film Festival, there was this brilliant film called "Surf Girls Jamaica", about Imani Wilmot, who is a female surfer in Jamaica who has devoted her whole life to empowering other women and teaching them to surf. That was made by two British females, so they dedicate their years to going out and making a film about this Jamaican female surfer. And again, it's so great to see that — I don't think I would have seen something like that 3-4 years ago. It's really kind of inspiring to know that the change is happening. And you can see, there are these amazing organisations like Black Girl Surf, Brown Girl Surf, Wave Project UK. It's happening. It's coming! haha
It seems you're so passionate about film, I really hope you get the funding!  I feel like… For me, all
the stories of the girls like me, who just grew up surfing and did some modeling and stuff… You know, it's the same old story. I'm not that interested in that. What I'm interested in is like, this one girl who surfs in Gaza. To me, that is an interesting story, I wanna know her story and the type of stuff that she is going through. Those are the things I want to hear and know about it, I'm sure other people do too. And also, by showcasing and platforming those stories can help create new role models so that more can get involved. What we see, we can be!
Lastly, what message would you want to pass on to younger female surfers and what kind of legacy do you want to leave?  That's a really powerful question. I guess, I would really like to (and am trying to) have a part in helping to drive the change in the visual narrative of surfing in the UK. So, I write things for SurfGirl and Wavelength Magazine. And trying to feature more meaningful stories. There is this girl from Devon, called Charlotte Banfield who is studying Marine Biology at Falmouth – she has Asperger syndrome, cerebral palsy and problems with her heart. She surfed in the worlds and got a silver medal so of course, I included her in one of my stories. I wrote a feature for the last SurfGirl they published about Naaisha Haneef, who is one of the only female surfers in the Maldives. So kind of helping to share more diverse stories in my writing. And yeah, I'd just like to help change the visual narrative in surfing.
From all that Sophie has shared, it can be said that she has already risen fierce, and will continue to do so as she passionately strives through life standing up for what is right • • •