Fierce Female Interview No. 25: Flick Palmateer, Fierce Australian professional surfer & artist
• • • Flick Palmateer, an Australian artist and professional surfer, combines her two passions in her latest project "Skin Deep". From Margaret River, Flick spoke about her childhood as a "beach baby", the surfing industry and achieving her artistic projects.
Thank you for taking the time to talk with us, Flick. Your Instagram is full of ocean pictures. Tell me a bit about where your love from the ocean came from and what the ocean means to you.
I'm born and bred in Western Australia and raised here. My dad is the keenest surfer in the area and my mom loves the beach. We were beach babies, my brothers and I, and my dad was trying to get them to surf, but not me. SoI told myself:  "fine, you won't take me, I'll go grab a bodyboard and I'll try and stand up on that!".
I really wanted a wetsuit. I was about six years old this time and my dad told me: "I'll only buy you a wetsuit if you come surfing with me every day for a week". I was his little sidekick, we would go to the beach every single day before school, after school… But I didn't start competing until I was about 12. I saw an ad in a magazine for a contest, and my dad wondered: "as a dad can I let her do this?". Originally, he was scared. If I lost that, he would lose his surfing buddy. But I got on the phone and registered myself for my first competition and I won it.
I then had a taste for winning. I'd already fallen in love with the ocean and all the amazing memories I have in it, and how it makes me feel. But now there was an opportunity to make it my career. My dad and mum supported me, and one thing led to another. I liked surfing and competing and did well on the junior series. I went pro probably when I was 17.
Over the years, how has the surfing industry evolved?
Back then, women were not respected. They made nowhere near as much money… It was not ideal. And there's still a lot to be done now.
There's a movie coming out soon called Girls Can't Surf. It is a big tribute to women from back then, like Layne Beachley. I have respect for them because those women paved the way for me to do that. They were the trailblazers. They really were their authentic selves, even with their sexuality, being out and proud. Now we're coming into a new era again, where there are more inclusivity and equality within the sport.
Could you tell me a little bit more about it and the inspiration behind it?
Skin deep has been a massive passion project of mine for almost six years. I fought to get it. I dreamt up the idea. It really is my interpretation of what it means to be free. There's a lot of other meanings and messages.
I like being vulnerable and connecting back to nature in the space that I feel most comfortable, appreciating my body, what it allows me to do. And embrace my femininity... Self-expression and creativity too, all these things that I have to convey throughout Skin Deep.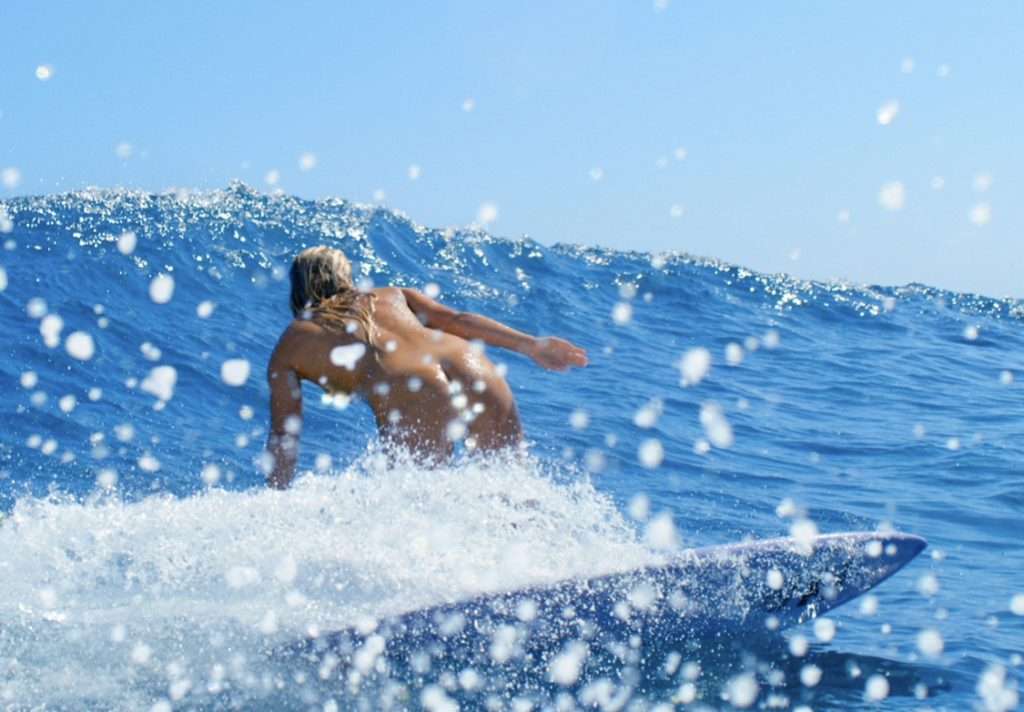 When I first thought of the idea, I thought it would be a simple project. But once you start trying to find the right people to work on the project, trying to align everyone's schedules to fly to these remote locations… I had anxiety that someone else might do it before me. Not that it ever would be something new, but I just thought that, yes, people have taken photos of people, but never done this beautifully to this extent. It was a task that seemed so simple, but yet things actually turned out to be really challenging on the whole wide road.
It's been awesome. It's been a relief, it's been satisfying. Not only did I invest a lot financially, but I invested so much emotionally. So to say that this project is finally out there… And in the end, it is so weird with social media these days… You feel that you're not achieving something unless you are putting it there.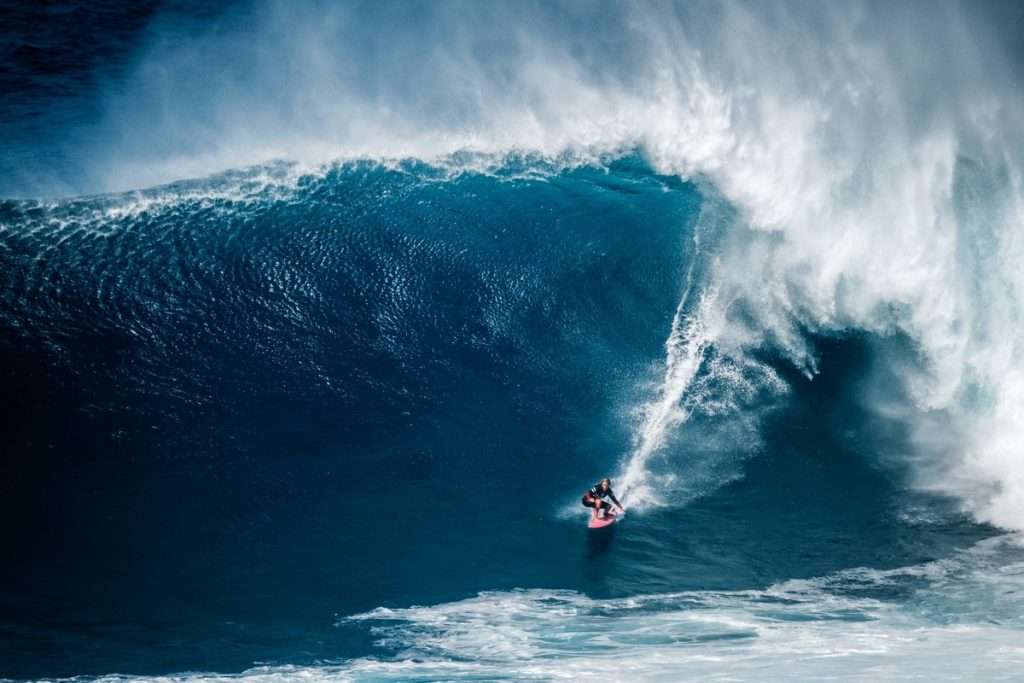 One of the things that really stuck out was all the beautiful figurative drawing that you've done, that is just incredible…
Thank you. I think that art and surfing have been my two biggest passions. Art has been something that I've been doing longer than surf. My dad is a ceramicist and he's been doing that for as long as I've been alive. He's always been my biggest inspiration.
For me, it has always been something that I've been able to come back to, the place where I get most of my enjoyment. I am almost more in a meditative state than when I do surfing.
I am jealous that you've got another thing in addition to surfing that gives you that state. Everyone wants that state and you get it twice! 
I guess it's just good to keep trying things until you like them. I've been lucky…
I read up about your trip to the Galapagos Islands back in 2013 as part of a conservation trip. Would you say that trip shaped you? And can you tell me a little bit more about your work around the causes?
That trip, in particular, was just amazing. Me and another girl from Australia, Jesinta Campbell, a former Miss Universe, flew there and the journey in itself was crazy. It's one of the most radical journeys I've ever been on, so far away. The whole trip shaped me. All the information I learnt, some of the things that she said to me resonated with me.
I loved the ocean already, why wouldn't I want to protect it, do my best for the world? I think I have a duty to do that.
Since then, I've come on board with Surfaid, they provide basic medical to look at the Indonesian islands where surf is frequent. They're an awesome charity. They have events all around Australia, and I have been an ambassador for them now for four years. I've also donated artwork before and auctioned artwork off.
Back in 2015, I had an exhibition in Sydney in Paddington and the money for one of the artworks that I auctioned off on the night went to Sea Shepherd!
For young girls that see you and are inspired by what you do, what kind of advice would you pass on to them, from a surfing or ocean point of view?
I think this is just a life thing in general, but I would say: always be vulnerable because your vulnerability isn't weakness! It's a gift. And I think, being women, we just need to embrace that more and lean into that more. Yes, it's scary. There is that lack of control. But there will also be growth. And some of my greatest lessons or greatest moments in life would come when I've really allowed myself to be vulnerable.
Always be vulnerable because your vulnerability isn't weakness! It's a gift. And I think, being women, we just need to embrace that more and lean into that more.
That comes with everything, communication, love and being your authentic self. And for me, the more real and open and honest you can be, the happier you're going to be.
What are your plans for… I mean, it's a different world now, but what are your plans for 2021 and beyond?
My original intention with Skin Deep was to have an exhibition alongside. I've been approached by a gallery in Margaret River for an exhibition in April this year. I've got work to do! It is good, though. It is stressful because I've committed to it now, but I think that this commitment is good.
Oh, good on you. That's such a nice way to showcase it as well, locally, in your community.
Yes, I'm looking forward to it. I'm really looking forward to it.
How exciting! I wish you all the best and I thank you for your time.